The comic I have featured in Lutefisk Sushi Volume D bento box (opening Friday… more info here) is a collection of dinosaur comics I drew for my daughters called EEK! DINOSAURS! It features a 3D cover, which you can see below.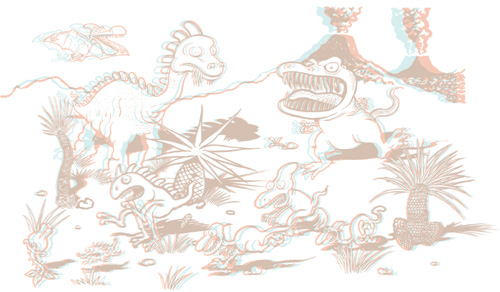 The Lutefisk Sushi Volume D bento boxes include work by over 50 Minnesota cartoonists, have a hand-silkscreened 3D cover by featured artist Danno Klonowski, are limited to 150 copies, and sell for only $25. Hard to believe we have put together four of these monsters already.
3D and dinosaurs are like chocolate and peanut butter to me.
Here is a version with the art moving to give a glasses-free 3D effect.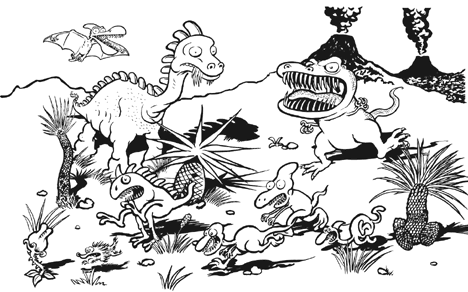 I'll also have a 2'x3′ digital print of the piece hanging on the wall at the gallery (there will be plenty of 3D glasses around to view it with, and there are glasses included in the boxes). In the event anyone wants to own one, I'll be selling them for $40 (frame not included).
In addition to this, I printed six issues of little funny up for the show, which will be in the small boxes from the vending machine along with comics by many other artists (I'll have a gallery of photos of all of them up sometime soon). The ones I printed include one by my oldest daughter, two I made with my good friend, Lutefisk Sushi featured artist Danno Klonowski, and three that are solo books. The little funny boxes each include a dozen or more micro-comics by different artists, and sell for $4 each… there are around a hundred of them this time around, and they will go very fast, I think.
Hope to see you there! Please tell your friends!