I haven't updated in a long time, I know. One thing I have been up to is organizing an event called Mini-Comics Day, which is happening tomorrow.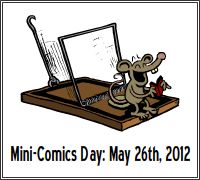 On Mini-Comics Day, participating cartoonists from around the world will write, draw, and print copies of a mini-comic, completing the entire process from start to finish in a day or less. Anyone in the world can participate.
We currently have sixteen sites listed around the world planning events for Mini-Comics Day. If you are interested in hosting an event, let me know… email me at webmaster(at)cartoonistconspiracy.com.
Here is the scoop about the Minneapolis event which I will be participating in:
As with all our events, it is free and open to anyone who wants to participate. Table space is provided on a first-come, first-served basis. We hope to be getting started at 10:00AM sharp.
The copier on site, provided by our generous hosts at The Minnesota Center for Book Arts, will be available for use for a $5 donation… however, Big Brain Comics is giving us $50 to put towards this fee, so the first 10 people to use the copier will have their fee covered. Obviously, there will be a lot of demand for the copier at certain times of the day, so please be courteous of others and don't bogart the machine. You'll want to bring a $5 bill if you plan on using the on-site copier.
Wet Paint will be providing some free supplies, and will have useful items for sale for part of the event.
Big Time Attic will be donating some paper.
The Cartoonist Conspiracy will be providing some copies of our How to Make Mini-Comics mini-comic for folks to assemble and refer to.
We'll be having an after party, where we will be giving out the prize for the Best Local Mini-Comic of the Day. This will be a block away from Book Arts in the side room at Grumpy's Downtown (1111 Washington Ave. S.) from 5:30 to 9:00PM. We'll clear out of the side room at 9:00 (a band will be taking over the space), and the fun will continue until whenever in the main room of the bar.
There will be a prize given out for the Best Local Mini-Comic of the Day. The prize will include a copy of the book Newave! The Underground Mini Comix of the 1980s, courtesy of Big Brain Comics, a Lutefisk Sushi box set and a copy of BIG FUNNY courtesy of Altered Esthetics, and probably some other goodies.
Obviously, only comics made entirely on the day of the event will be eligible for the prize. To enter your mini-comic, drop 4 copies of it in the box we will have at the Book Arts event, or bring it before 6:30 to the side room of Grumpy's Downtown. Make sure to include your name, address, email address and other contact information you think is pertinent with your submission. All submitted comics will also be included in a reading rack at the upcoming Art? show at Altered Esthetics in May.
The submitted comics will be read and a winner will be determined by three local non-cartoonists; author of Superheroes, Strip Artists & Talking Animals: Minnesota's Contemporary Cartoonists Britt Aamodt, Big Brain Comics proprietor Michael Drivas, and Altered Esthetics founder Jamie Schumacher.
Please do spread the word to everyone you know who likes to make comics! If you use facebook, you may want to check out the Mini-Comics Day facebook page.
The Minnesota Center For Book Arts
1011 Washington Ave S
Minneapolis, MN
April 9, 10:00 AM – 5:00 PM
(in the Flexispace and Gallery Space)
Copier will be available on site.
Table space will be provided on a first come, first served basis.
We'll also be having an after party, where we will be giving out a prize for the Best Local Mini-Comic of the Day. This will be a block away in the side room at Grumpy's Downtown (1111 Washington Ave. S.) from 5:30 to 9:00PM. We'll clear out of the side room at 9:00 (a band will be taking over the space), and the fun will continue until whenever in the main room of the bar.
Contact: Steven Stwalley
webmaster(at)cartoonistconspiracy.com