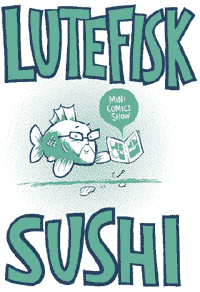 Above image by Lutefisk Sushi Volume E featured artist Zander Cannon.
Spread the word! The Lutefisk Sushi Volume E opening is this Friday!
Lutefisk Sushi Volume E is a limited-edition, hand-silkscreened bento box of mini-comics created by over 35 Minnesota cartoonists (the boxes will be sold for $25 each… which is well under a buck a comic). It is the fifth set in an ongoing series started in 2004. The opening reception for the release of LSE is this Friday, November 2nd, at Altered Esthetics gallery from 7PM to 10PM. More information can be found here.
I have a new mini included in the box, Freaky Tiki. Much of the original art from the mini is hanging at the gallery… any of which you can purchase for a twenty spot.